NATIONAL PRESSURE INJURY ADVISORY PANEL
ACEWM President, Stephanie Woelfel, was recently elected to the Board of Directors of the National Pressure Injury Advisory Panel (NPIAP). She will serve in this capacity until January 2026. The NPIAP is an independent not-for-profit professional organization dedicated to the prevention and management of pressure injuries. Formed in 1986, the NPIAP Board of Directors is composed of leading experts from different health care disciplines— all of whom share a commitment to the prevention and management of pressure injuries. The NPIAP serves as a resource to health care professionals, government, the public, and health care agencies; and welcomes and encourages the participation of those interested in pressure injury issues through utilization of NPIAP educational materials, participation at national conferences, and support of efforts in public policy, education and research. APTA has been a Collaborating Organization of the NPIAP for over two decades.
NPIAP Annual Conference
The NPIAP has scheduled it's 2023 Annual Conference for March 17-18 at the Marriott Marquis San Diego Marina. The two-day event will provide valuable insights on equity in prevention and treatment of pressure injuries from some of the best speakers in the industry. You will not want to miss this great opportunity! Conference details can be found here.
Resources
Skin Manifestations with COVID-19 (for more information, click here).
NPIAP Position Statement on Preventing Injury with N95 Mask and Info-graphic (click here to download).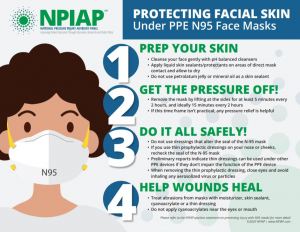 Pressure Injury Prevention - PIP Tips for Prone Positioning (click here to download).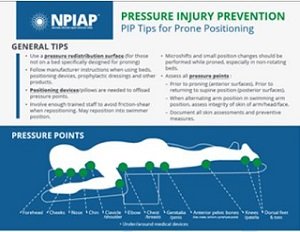 NPIAP COVID-19 Resources for Pressure Injury Prevention (click here to view a list of resources).