Wound Management Special Interest Group (WMSIG)

The Wound Management Special Interest Group (WMSIG) of the Academy of Clinical Electrophysiology and Wound Management (ACEWM), as described in our bylaws, provides a forum where individuals interested in wound management may meet, confer, and promote patient care through education, clinical practice and research, as well as multi-disciplinary dissemination of PT-based knowledge.
2020 SAWC Fall & Spring Wound Management Therapist Scholarship Award Videos -
Get Involved with the WMSIG:
Interested in Specialization in Wound Management? Learn More
Wound Care Therapist Scholarship! Apply Today!
For more information regarding SAWC and SAWC events, click here!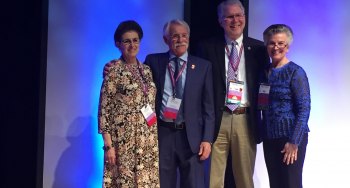 Luther Kloth, PT, MS, FAPTA, CWS, FACCWS
2018 Boswick Award Winner for Lifetime Achievement
Awarded at the 2018 Symposium on Advanced Wound Care conference
Helpful Resources
The Role of Physical Therapists in Wound Management: An Update
The purpose of this report is to educate patients, physicians, nurses, allied health professionals, payors and coders, legislators, and the general community regarding the very important role physical therapists have in the area of wound management. While entry-level physical therapists receive a good foundation for practicing in the area of wound management, many therapists spend hundreds of hours in mentored on-the-job clinical training, self-study, and post-graduate professional continuing education in order to advance their wound management knowledge and skill. Many physical therapists achieve board certified specialization in the area of wound management as a mechanism of documenting their high level of training.
Active Wound Care Management FAQ Document
Thank you to APTA staff and Harriett Loehne for creating a helpful document addressing coding and documentation questions related to Active Wound Care Management. You can download the document to the right. Additional coding and billing resources may be found on the APTA website here: http://www.apta.org/Payment/CodingBilling/.
APTA's Academy of Clinical Electrophysiology and Wound Management Guide for Integumentary/Wound Management Content in Professional Physical Therapist Education
Functional Limitation Reporting Guidance
Click here to view the Guide "Appropriate Reporting of G-Codes & C-Modifiers by Therapists Who Treat Chronic Wounds"
Download the Wound and Integumentary Functional Limitations recommendations by clicking the download button below
Success Story
Here's an inspiring story from inMotion's Fall 2016 magazine about a patient with necrotizing fasciitis who, thanks to the incredible work of a medical team that included wound management physical therapists, kept his leg and life. inMotion is the official publication of the USC Division of Biokinesiology and Physical Therapy. Click the button below to download the magazine and view the article on pages 16-19.