Neuromusculoskeletal Ultrasonography

2022 NMSKUS Elections!
The NMSKUS-SIG Nominating Committee elections are underway! The positions up for election are Chair, Administrative Officer & Nominating Committee Chair. The two years term will begin on July 1, 2022. Please take a moment to vote on the candidate(s) that you feel would best represent ACEWM and the NMSKUS Special Interest Group.
Elections will be held from May 20, 2022 to June 20, 2022.
Who are the candidate?! Please take a moment to read about those running for the NMSKUS SIG and cast your vote!
Chair:
Mohini Rawat, DPT, MS, ECS, OCS, RMSK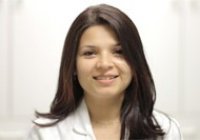 Dr. Rawat is co-founder and president of American Academy of Musculoskeletal Ultrasound. She is Fellowship director of the Musculoskeletal Ultrasound program at Hands-On Diagnostics. She is board certified in Clinical Electrophysiology and Orthopaedics by American Board of Physical Therapy Specialties and in Musculoskeletal Sonography by Alliance for Physician Certification and Advancement.
She is faculty for courses in Musculoskeletal Ultrasound and clinical electrophysiology in PT program and other continuing education courses. She has mentored hundreds of clinicians and has reviewed thousands of ultrasound studies. Dr. Rawat is a contributing author and wrote chapters on imaging in books. She has published articles and presented numerous musculoskeletal ultrasound courses, webinars, and lectures at multiple professional conferences and organizations including the American Institute of Ultrasound in Medicine and the American Academy of Orthopaedic Surgeons annual meeting. She is the current chair of the Academy of Clinical Electrophysiology and Wound Management Neuromusculoskeletal Ultrasound Special Interest Group and holds other elected positions in the American Physical Therapy Association. She is Editor-in-chief of Journal of Clinical Electrophysiology and Wound Management. She is the editor of a textbook on musculoskeletal ultrasound called Atlas of Musculoskeletal Ultrasound of the Extremities.
If re-elected as the chair of the NMSKUS SIG, she will continue to work on the goals set forth in the strategic plan with other members of the SIG.
Administrative Officer:
Vicki Buchanan, PT, FMSK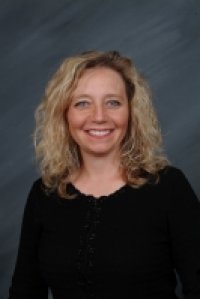 Vicki Buchanan, is the founder and CEO of Regional Physical Therapy, Inc. in Oklahoma City, OK. She has 34 years of clinical experience working in general outpatient care. Vicki has a fellowship in Muskuloskeletal ultrasound and has her POCUS certificate in ultrasound fundamentals from APCA. She has been a member of APTA for 36 years and serves as Administrative Officer for the NMSKUS SIG. Vicki has been published in JOSPT in the imaging section. She is a member of AIUM.
Nominating Committee Chair:
Beshoy Ghaly, PT, DPT, RMSK, ECS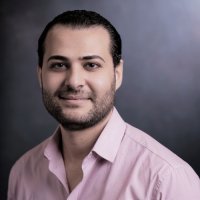 Beshoy Ghaly is an ABPTS Board Diplomate in Clinical Electrophysiology. He is also Registered in Musculoskeletal Sonography (RMSK) by the Alliance for Physician Certification and Advancement (APCA) and holds The Point-of-Care Ultrasound Musculoskeletal Certificate (POCUS). He performed and interpreted thousands of diagnostic musculoskeletal ultrasound studies in both physical therapy and medicine practice settings. He is an APTA-Credentialed Clinical Instructor, presented in professional conferences & published multiple journal articles related to the field. He serves the Academy of Clinical Electrophysiology and Wound Management as the Nominating Committee Chair. He serves as an item writer for the Clinical Electrophysiology Board Exam through the ABPTS Specialization Academy of Content Experts. He is an active member of the American Institute of Ultrasound in Medicine, the American Physical Therapy Association & an affiliate member of the American Society for Surgery of the Hand. He is an instructor of the MSK Ultrasound Mastermind® programs and courses.
On a personal note, he is inspired by the incredible success & life stories of Elon Musk, Martin Luther King Jr, Helen Keller & Mahatma Gandhi.
As the current NMSKUS-SIG Nominating Committee Chair, I look forward to continuing working to recruit a strong pool of candidates that will benefit the SIG for years to come.
If you have any questions, please reach out to Nichole at info@acewm.org

Please plan to attend the 2nd annual AAMU Virtual Symposium!
https://aamskus.com/aamu-2nd-virtual-symposium/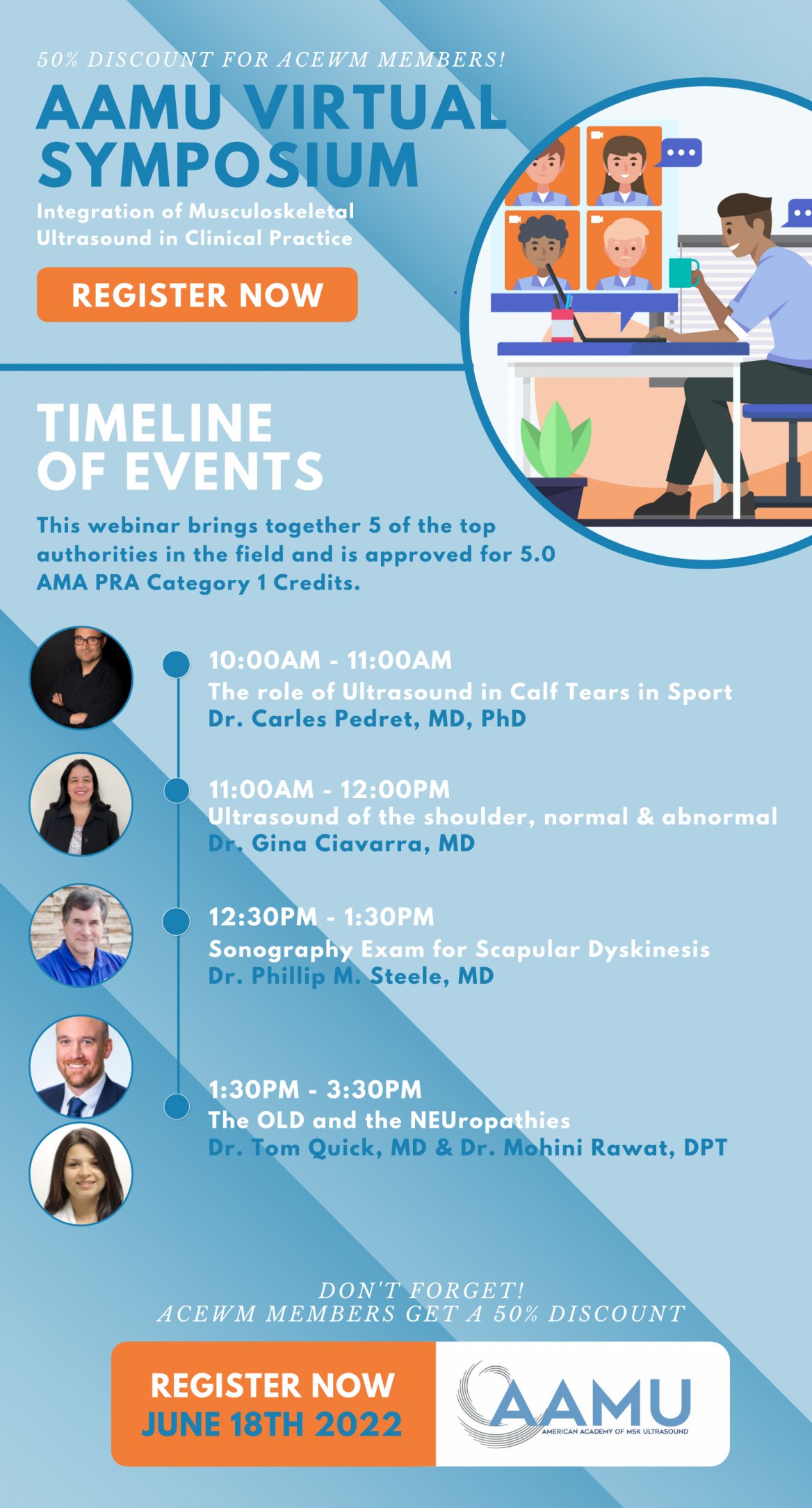 NMSKUS is looking for volunteers and mentors. Click here to complete the ACEWM committee volunteer form and email it to us at info@acewm.org.
Administrative officer of NMSKUS SIG, Vicki Buchanan published her article in JOSPT imaging section highlighting the use of NMSKUS in PT practice. "Schwannoma of the Posterior Tibial Nerve" Click here to learn more: https://www.jospt.org/doi/pdf/10.2519/jospt.2020.9103
The mission of

NMSKUS

SIG is:
To promote best adherence to quality measures in the practice of neuromusculoskeletal ultrasonography
To provide platform for the development of educational guideline and clinical research in NMSKUS
To promote higher standards of practice and continued growth through members involvement in NMSKUS SIG
Ultrasound imaging is a rapidly growing field across specialties and is known to be superior to other imaging techniques in terms of cost effectiveness, higher patient satisfaction and overall efficiency in patient care. There is a special area within diagnostic ultrasound imaging for neuromusculoskeletal imaging and relatively new but rapidly growing integumentary system imaging Ultrasound can be used as an adjunct to physical examination, electrodiagnostic procedures or as a diagnostic tool by itself.

How to become a member?
To become member of the NMSKUS SIG, one has to be member of the Academy of Clinical Electrophysiology and Wound Management (ACEWM) There is no additional cost to you to become a member of the NMSKUS SIG
Benefits
Educational webinars, updated policy documents and discussions on ultrasound imaging topics as they relate to EDX, neurology, orthopedics and the integumentary system are of great value to many clinicians and educators.
Collaborate and network with colleagues who share similar interests.
Contribute to this growing field and shape the future of PT's utilizing ultrasound as a diagnostic tool