Neuromusculoskeletal Ultrasonography

NMSKUS is looking for volunteers and mentors. Click here to complete the ACEWM committee volunteer form and email it to us at info@acewm.org.
Join us for the LEADING ONLINE EVENT IN MUSCULOSKELETAL SONOGRAPHY... Integration of Musculoskeletal Ultrasound in Clinical Practice - April 24, 2021
50% off Registration for all ACEWM Members!!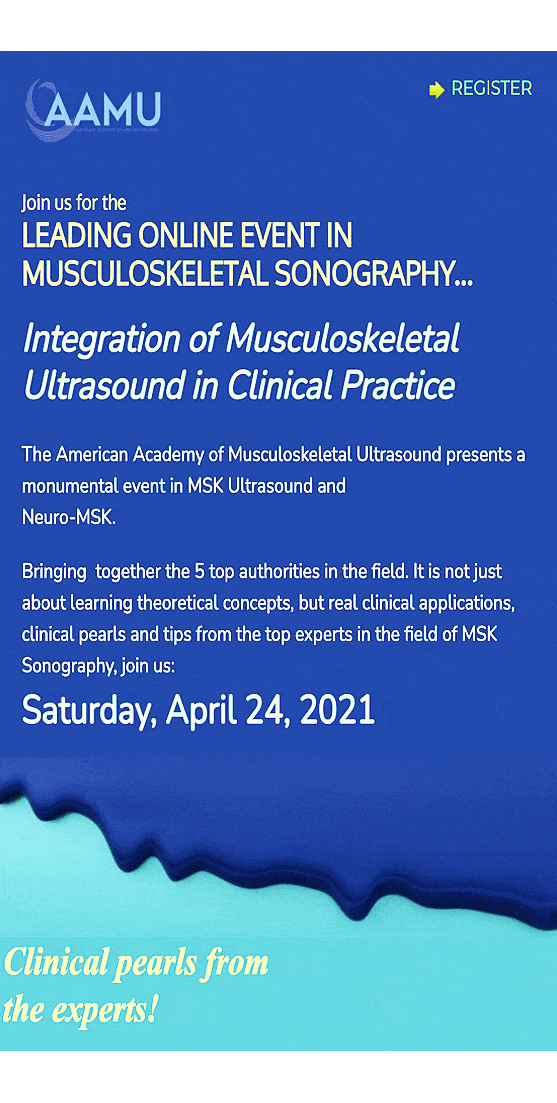 2021 Slate of Candidate Request
The NMSKUS Special Interest Group Nominating Committee is seeking recommendations for the 2021 Slate of Candidates. If you have been recommended for our SIG office and have consented to serve, or if you wish to nominate yourself, please complete the Candidate Position form (click here). Please send the completed form to Beshoy Ghaly , the NMSKUS SIG Nominating Committee Chair at ghaly.beshoy@gmail.com on or before April 15, 2021.
Administrative officer of NMSKUS SIG, Vicki Buchanan published her article in JOSPT imaging section highlighting the use of NMSKUS in PT practice. "Schwannoma of the Posterior Tibial Nerve" Click here to learn more: https://www.jospt.org/doi/pdf/10.2519/jospt.2020.9103
The mission of

NMSKUS

SIG is:
To promote best adherence to quality measures in the practice of neuromusculoskeletal ultrasonography
To provide platform for the development of educational guideline and clinical research in NMSKUS
To promote higher standards of practice and continued growth through members involvement in NMSKUS SIG
Ultrasound imaging is a rapidly growing field across specialties and is known to be superior to other imaging techniques in terms of cost effectiveness, higher patient satisfaction and overall efficiency in patient care. There is a special area within diagnostic ultrasound imaging for neuromusculoskeletal imaging and relatively new but rapidly growing integumentary system imaging Ultrasound can be used as an adjunct to physical examination, electrodiagnostic procedures or as a diagnostic tool by itself.

How to become a member?
To become member of the NMSKUS SIG, one has to be member of the Academy of Clinical Electrophysiology and Wound Management (ACEWM) There is no additional cost to you to become a member of the NMSKUS SIG
Benefits
Educational webinars, updated policy documents and discussions on ultrasound imaging topics as they relate to EDX, neurology, orthopedics and the integumentary system are of great value to many clinicians and educators.
Collaborate and network with colleagues who share similar interests.
Contribute to this growing field and shape the future of PT's utilizing ultrasound as a diagnostic tool