Electrodiagnostics Special Interest Group

The mission of the Electrodiagnostics Special Interest Group is to:
Protect & defend PT practice in electrophysiological examination by advocacy in regulatory, legislative & reimbursement arenas,
Promote high standards of practice via member involvement in ABPTS, and
Promote growth in clinical EMG practice through support of education & training
Lynda D. Woodruff Endowed Research Grant on Diversity, Equity, and Inclusion in Physical Therapy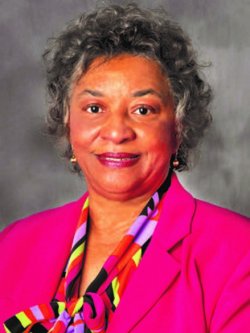 Lynda D. Woodruff, PT, PhD, is known to most fo us as a trailblazer in physical therapy education and stalwart contributor to the PT Electrodiagnostic profession. From the time she integrated public schools in Lynchburg, VA , becoming the first African American female professor at UNC Chapel Hill, to countless Charter PT education programs across the country, she was remarkably tireless and ferocious in her life-long mission and values to advocate and promote health equity and diversity education. Whether you knew or knew of her, recognize that your successful Electrodignostic practice would no be possible without her contributions. She left us on March 20, 2018, but her legacy remains, and it is incumbent upon us as an Academy to press-on and humbly honor her life's work by supporting the Lynda D. Woodruff Endowed Research Grant and Lynda D. Woodruff Lecture. Together we succeed. Please consider contributing to the grant.
Get Involved:

Join our Electrodiagnostics SIG
The Electrodiagnosis Special Interest Group (EDX SIG) is free to members of the Academy and provides a forum where individuals interested in electrodiagnosis may meet, confer, and promote patient care through education, clinical practice and research, as well as multi-disciplinary dissemination of PT-based knowledge.
Members who have joined a SIG receive information about programming, practice, education, and legislative matters specific to the SIG. Only members of the Academy can join a SIG.
Please visit this page for instructions on how to sign up for the ACEWM Special Interest Groups.
Interested in Specialization in Electrodiagnostics? Learn More
ECS Specialist Certification
The American Physical Therapy Association (APTA), a national professional organization representing more than 66,000 members throughout the United States, established the specialist certification program in 1978. Specialization is the process by which a physical therapist builds on a broad base of professional education and practice to develop a greater depth of knowledge and skills related to a particular area of practice.
Application forms and information are available at www.abpts.org. If you need additional information contact the Specialist Certification Program by phone at 800/999-2782, ext 8520; or by e-mail at spec-cert@apta.org.
Position Statement
The American Congress of Electroneuromyography (ACE) and the Academy of Clinical Electrophysiology and Wound Management (ACEWM) have developed a position statement on the minimum standards of performance and interpretation of electromyography (EMG) and nerve conduction studies (NCS). The position statement has recently been reviewed and approved by the American Physical Therapy Association.
Educational Guidelines
The purpose of these guidelines is to identify the student-oriented educational objectives that are recommended in the areas of electrophysiological examination and evaluation for the preparation of students in professional physical therapist educational programs.
We also have a list of individuals who are willing to be contracted by physical therapy educational programs to teach clinical electromyography and nerve conduction studies content. Please feel free to contact them directly.
Electrodiagnostic Laboratory Accreditation Program
The Federation of Clinical Electrophysiology, an organization made up of the three national organizations (the American Academy of Clinical Electrodiagnosis, the Academy of Clinical Electrophysiology and Wound Management of the APTA, and the American Congress of Electroneuromyography), is pleased to announce the opening of the Electrodiagnostic Laboratory Accreditation program.
The Federation of Electrodiagnostic Laboratory Accreditation was formed to recognize electrodiagnostic labs that meet high levels of quality, patient safety, and follow accepted standards of care in electrodiagnostics. The process of electrodiagnostic laboratory accreditation is voluntary but strongly encouraged. Accredited labs demonstrate to the public, referral sources, and to third party payers that electrodiagnostic studies are performed with the highest standards and patient safety in mind.
There is currently a move to require each electrodiagnostic laboratory to demonstrate competency through accreditation. This accreditation process is already established in facilities that provide advanced diagnostic imaging services. Advanced diagnostic imaging facilities must be accredited in order to bill CMS for services. It seems natural that this accreditation trend may soon involve electrodiagnostic labs. A lack of an accreditation status may affect insurance reimbursement and referral sources in the future.