CSM 2020
2020 Business Meeting and Social
Click here to see the photos from the 2020 Business Meeting and Social held during CSM 2020 !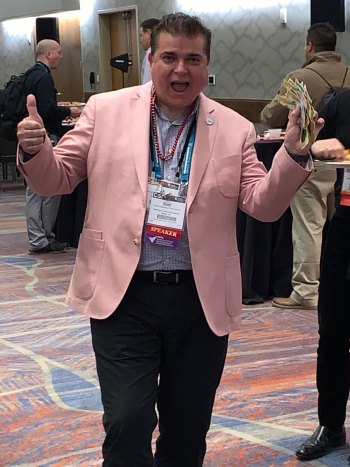 Thank you to the moderators for the Educational Sessions at CSM 2020:
Sonya Dick John Tawfik
Karen Bock Brian Odom
Meryl Gersh Lynda Kennepp
John Eddy Jennifer Gardner-Harbison
Eddie Traylor James Bellew
Thomas Nolan Kate McKenney
Greg Ernst Karen Smith
Leia Richardson Neely Sullivan
Annette Tagliaterra
Preconference and Education Sessions Abstracts from CSM 2020
Preconference Sessions
Show Me the Value: Evidence-Based Clinical Decision-Making and Application of Biophysical Agents: Pain Management - Selkowitz, DM, Freemen L, Herziger C, Ochoa SL
Educational Sessions
Riddle Me This: What is the Toughest Movement System Examination? The Integumentary - Bock KJ, Dyson JJ
Breathe Easy and Follow Your Heart: Evidence-Based Clinical Pathways for COPD and CHF - Dunlap JM, Campbell J.
Stretch Your Mind and their Skin: The Role of Elastic Taping in Wound Management - Samuels NR
Integration of Clinical Exam, Diagnostic Testing, and Treatment, part 1: Cervical Radiculopathy - Kostopoulus D, McKibben RJ, Brooks ME
Integration of Clinical Exam, Diagnostic Testing, and Treatment, part 2: Neuropathies of the Upper Limb - Kostopoulus D, McKibben RJ, Brooks ME
Entry-Level DPT Wound Management Education in Hybrid Format: Considering the Possibilities - Bachman TR, Gagnon KL
Upper Extremity Nerve Pathology: Localizing the Lesion for Optimal Management - Rawat M, Aramantrout EA
Foundations of Wound Care Staff Education: What Clinicians Need to Know - Sullivan N, Tagliaterra A
Demystifying th Evaluation of Brachial Plexopathy to Enhance Patient Treatment and Outcomes - Greathouse DG, Ernst GP, Shaffer SW
What's That Button Do? Optimizing Pain Control and Strength Gaines with Biophysical Agents - Allen AK, Body YJ
Neuromodulation: Evidence Treatment Options Available in PT Practice - Alon G
Movement System Considerations for Wound Prevention and Management - Pignataro RM, Porter JG
Managing Pediatric cases Complicated by Open Wounds - Odom BH
Is Section or SSIG Membership for You? What They Offer to Student and New Graduate- Jamin MA, Gil JS, Medefindt GM, Downey MB, Slicki MA, Mital K, Chukwuocha K, Lorant K, Massumi CJ, Parazo EE
Consumer-Centric Activity Trackers and Telehealth's Vital Role in Value-Based Physical Therapy Care (APTA FiRST Council - Lee ACW, Russel T, Smith J
Neuromusculoskeletal Ultrasound Imaging - Rawat M
Evaluating the Diabetic Foot with Diabetic Foot Ulcers - Biven T, Green EA, Richardson LD